Writing has been a passion of mine ever since I first discovered story writing at school. Over the years, I have created many worlds, many more characters and adventures that continue to play out in my head to this day, regardless of what I'm doing. My love for the hobby runs as deep as that which I have for let's playing – perhaps even more – though I haven't talked about as much as I'd like to until recently.
I made a series of videos called Writing and Me where I talk about many aspects of writing. It is my hope that my series to help others on the same journey as I am to help them improve their stories.
---
The Threnody of Dustledom
Most of my work has never been publicly presented. The novel The Threnody of Dustledom is the first story I've published online.
Kaden is a man used to adventure. Son of a knight of a dead realm, his deeds are the stuff of tavern talk and bards song. What started out as a pleasant reunion with an old friend, however, quickly turns into a race to avert calamity that not only threatens the safety of the world, but brings to sharp focus the colliding loyalties of the past.
It is available for free on this site, previously released in a serialized form.
---
Errant Hope
My first fully fledged novel, Errant Hope (Sword Saga Book One) is now out!
Get a print book or a Kindle eBook from Amazon:
Your local Amazon will have roughly equivalent prices
See the FAQ for finer points regarding book availability.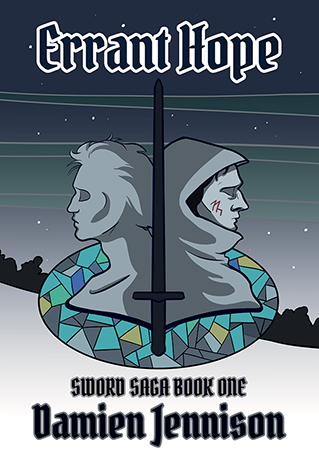 It came from the heavens and brought disaster.
Callum's life was a hard one, toiling day after day as an unskilled labourer deep in the countryside. Never looking beyond the next winter, his lot was unremarkable and one with little hope of improvement. When an opportunity to earn easy coin falls into Callum's lap, he readily accepts without thinking of the risk.
Wolves and brigands turn out to be the least of his problems, however, for a chance encounter with an old weathered sword puts him at the centre of mysterious events, earns him the attention of a suspicious knight and gains him some unlikely allies. Their journey for answers — one Callum has little choice but to go on — leads him to learn of the terrible responsibilities that come with wielding the sword and of an enemy whose goals will change his world forever.
Pulling inspiration from the science fiction and fantasy media of his youth and the lessons learned throughout his life about overcoming adversity, Errant Hope is Damien Jennison's first novel and the first steps in an epic adventure that will sweep you away.
There is an RSS feed
for my writings if you wish to be updated when new ones come out.